How to Pick the Perfect Floral Arrangement Using Color Psychology
When it comes to planning your bouquet and the centerpieces for your wedding, use the study of color psychology as a tool to plan your biggest and best event yet! Used to analyze the mental and emotional effects that colors have on people, color psychology is a great way to help influence the feelings of your guests. If you're looking to liven up your celebration, warm colors such as orange and yellow are known to ignite feelings such as cheer and positively. Looking to throw a calm and relaxed get-together? Incorporate cool shades of light blue for a laid-back vibe. Check out the mood boards below for inspiration of visit the FTD blog to learn more about color psychology.
The Psychology of Warm Colors
If you're interested in provoking strong thoughts and feelings, warmer colors such as orange, red and yellow are the way to go. These colors are known for symbolizing and igniting feelings such as cheer and positivity.
Red is usually synonymous with love and romance because of its association with the heart. The colors orange and yellow are usually associated with cheer and happiness. These colors can encourage positive energy in the spaces where you place them.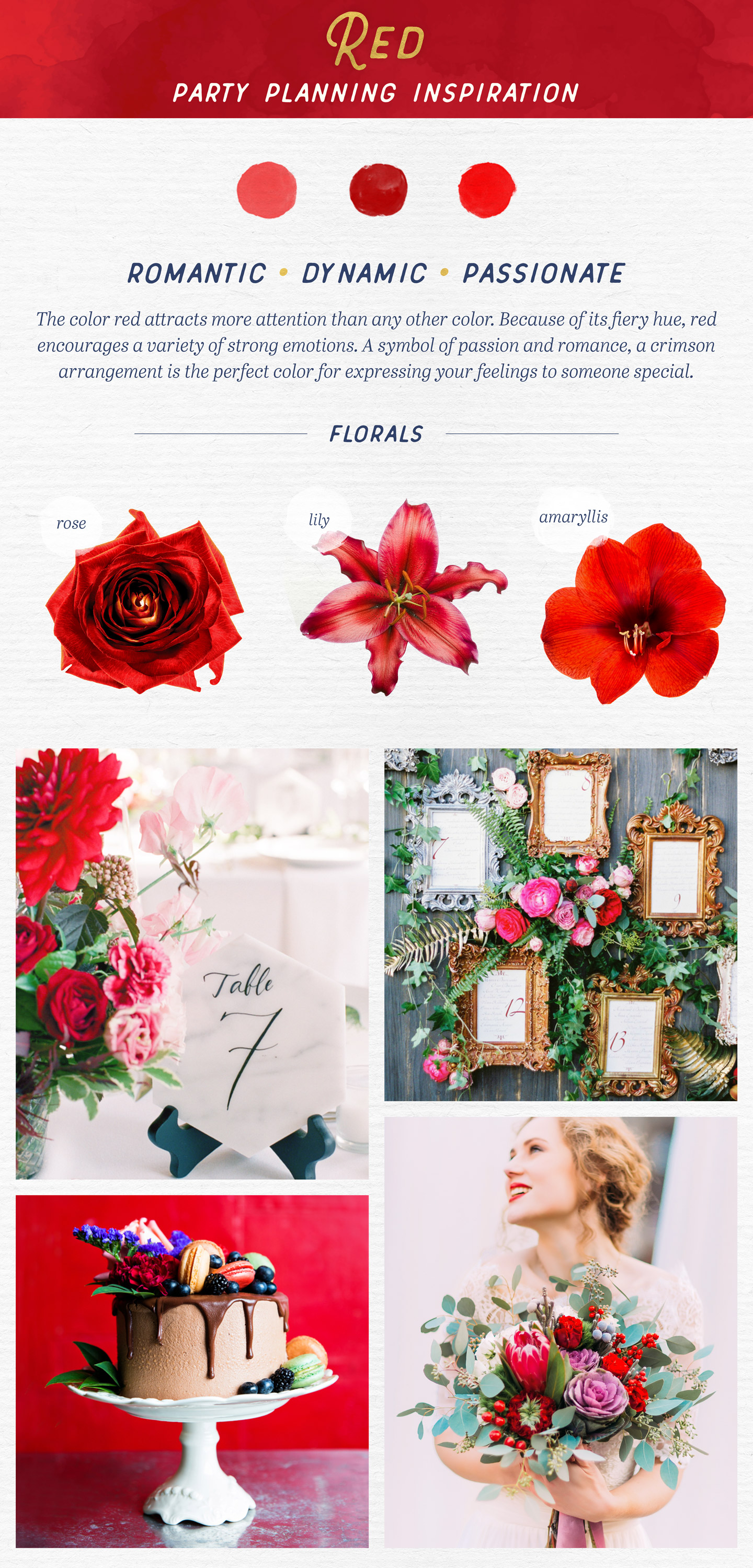 The color red attracts more attention than any other color. Because of its fiery hue, red encourages a variety of strong emotions. A symbol of passion and romance, a crimson arrangement is the perfect color for expressing your feelings to someone special.
Rose – A symbol of romance, the rose conveys the message of love, passion and appreciation.
Lily – Though they come in many colors, the lily is a symbol of passion when it's red.
Amaryllis – Named after a Greek maiden, the red amaryllis flower symbolizes pride, determination and radiant beauty.
Associated with joy and happiness, orange represents energy and vibrancy. Send an arrangement with touches of orange to someone who's facing a hardship. For a brunch or an early morning get-together, use flowers in this color to bring an extra boost of energy.
Dahlia – The dahlia is symbolizes elegance, dignity and inner strength.
Marigold – This flower symbolizes cheer and is typically compared to the warmth of the sun.
Ranunculus – This uplifting flower can convey the message to the recipient that they are charming and attractive.
The color yellow represents good health and respect. It's also very stimulating! Representative of friendship, this color is a great option for friendly get-togethers. Yellow flowers are a great gift for encouraging a positive outlook.
Sunflower – The yellow color of the sunflower symbolizes friendship, intelligence, happiness and vitality.
Garden Rose – A traditional symbol of friendship, a yellow garden rose is the perfect way to light up a room.
Daffodil – This flower is a symbol of new beginnings, rebirth and good luck. It is also associated with the coming of spring.
The Psychology of Cool Colors
Are you looking to boost your creativity or wind down after a long day? Incorporate cool colors into your surroundings to promote an even balance between serenity and stimulation.
One very popular cool color, green, is considered peaceful and calming. Why? It's thought to be less straining on the eye muscles. Incorporating different shades of greenery in your garden or arrangement is a great way to balance out any highly-stimulating colors.
Blue, a serene and calming cool color, is known to slow-down respiration and lower blood pressure. By incorporating one or a combination of these colors in your surroundings, you can breathe a little more easily and think a little more clearly.
The color purple is considered to represent royalty, as historically purple dye was very expensive and very hard to come by. This color also is also a symbol of creativity and spirituality.
This color represents good fortune, freshness and renewal. From bright and bold to soft and muted, green brings a lively energy to every situation. Add touches of green to an arrangement for a wedding, anniversary or a celebration of birth to signify well wishes for a fresh start.
Chrysanthemum – The ruffled chrysanthemum is a symbol of friendship, loyalty and devotion.
Hydrangea – The hydrangea is a symbol of gratitude and heartfelt emotion.
Succulent – The succulent is associated with timeless love, which makes it perfect for events celebrating love
Different shades of blue represent calmness, loyalty and support. Deeper shades typically symbolize trust, while lighter blues are soothing. Because of its calming tendencies, blue flowers make a wonderful get well soon gift.
Iris – The iris is represented in Greek mythology as the goddess of the rainbow. While it comes in many colors, the blue iris symbolizes faith and hope.
Blue Delphinium – The delphinium's most common color is blue, which symbolizes joy, encouragement and dignity.
Morning Glory – The heat-absorbing blue morning glory is a symbol of love, affection and spiritual longing.
Purple is the color of power, creativity and luxury. Arrangements containing purple flowers are great for someone experiencing a big life change, such as a wedding or milestone birthday.
Lilac – Light purple lilacs are associated with first love, while the deeper violet version symbolizes spirituality.
Orchid – Purple orchids are considered the true queen of the flower kingdom; they symbolize royalty, admiration and respect.
Tulip – The traditional flower for 11 year wedding anniversaries, the purple tulip is a symbol of royalty.
While flowers come in different shapes and sizes, the colors you choose to display or gift can make a big impact. Whether you prefer a floral arrangement made with warm colors for a lively party or a cool-toned bouquet for a romantic wedding, your choice of a color palette can influence your guests' mood for the better.
Credit:www.ftd.com